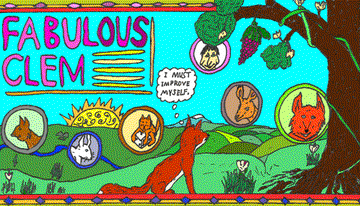 6/11/09 - It's been over two and a half years since I updated this! How ridiculous is that?
11/25/06 - I'm a two-time NaNoWriMo winner! Icon added to the bottom of the page.
1/22/06 - Mandala section added. Only two for now.
10/27/05 - "Everyone Loves Magical Trevor" pictostory added!
10/13/05 - Map for Endless Round MUCK uploaded.
10/10/05 - New recipe in Recipe section: Thorin's Soup That Contains Turnips! Ms. Pac-Man Salad also modified.
9/6/05 - Blue Lover, a story in eight chapters, added to Stories section!
6/30/05 - Dream Cycle added; Games section now complete!
~~~~~~~~~~~~~~~~~~~
Places to go,
people to meet:


The website for my house!
Laramie Sasseville: Dreamspell
A friend whose site includes beautiful pencil and ink art, digital art, filk songs, vanity bookmarks for sale, and the Discordian Coloring Book.
John Goodenough: Fantasy Illustrator
This gaming buddy of mine has done fine illustrations for many collectable card games and other projects. And I was in his wedding party!
Corwin Brust: Perl Programmer
A childhood friend of mine, Corwin is computer savvy and has a quirky kind of intelligence I appreciate. Find his LiveJournal and free Perl scripts here.
Rich Brown: Some So-Called Music
Rich Brown is, among other things, an enthusiastic filker. This collection of satirical and humorous songs to familiar tunes is top-notch, and deserves a perusal.


Clicking on me is a PG-13 act!


Click on the ship to check out Laramie's CafePress shop! Buy journals, clothing, greeting cards and more featuring her fascinating and beautiful art!

If it's Storytime you crave, then this link may hit the spot!

On the other hand, if you prefer poetry, you may find clicking here to be your wisest course.

Or perhaps it's speedily written, creative short plays that intrigue you! Check out my scripts for Carleton College's former cold-reading theater group, Chelsea 11:17 !

First, there was

Survivor

. Then, there were a whole lot more

Survivor

s. Right about in the middle of all this madness came Survivor: Thailand, and I was there to write overanalytical weekly articles about it. Read them.

Are you, by chance, a fan of the classic action/puzzle game Lode Runner? You are? Then my levels, designed for Sierra's brilliant remake of the game, will rock your world!

Are you an artiste? Then your senses will perhaps be offended by my portfolio of Crayola Marker Art.

If you believe in the healing power of the mandala, you give it more credence than I do; nevertheless, here you go!

Do a stranger's opinions on webcomics interest you? Here's a list of the ones I read, with ratings because I like numbers!




Being that I'm only a dabbler in the fine art of cookery, I'm not really sure why you would choose to look at my pseudo-recipes, but the choice is yours!

If you've spent as much time MUCKing about as I have, you may relate to this homage to text-based roleplaying! (Coming soon)

Though it be somewhat dated, the socially conscious may wish to take a look at Light Rail, Heavy Concerns: a college web project about the development of Minneapolis's Hiawatha Line.

Games are a passion of mine--how about you? If you want to learn a new game or two, or to find new ways to play old favorites, check out my various game inventions and variants.

If you have the bad habit of screwing your head on upside-down in the morning, you can still ensure that some things will still be legible through the judicious use of ambigrams.

This is where you can find updates for my neglected Battle for Wesnoth campaign, "A Gryphon's Tale."
If you are part of the significant throwback population that still calls Nintendo's "The Legend of Zelda" its favorite video game--or you would like to be--then click here!


The time has come! Make your choice!!!!!




This website is listed through the Free Search Engine Submission service of Addme.com.