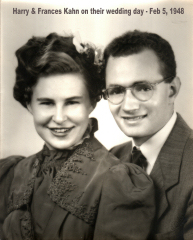 Frances Benson & Harry Kahn
on their wedding day, Feb 5, 1948
Frances wore her grandmother's
wedding dress.

Family History


Sharon's Photo Gallery


Magic Lantern Light Show

---
All contact information has been moved to private page. If you are a family member, click on padlock icon at the top of the page, and log in as kahnfamily, using secret password. If you don't know the password, email me:

sharon @ kahnhome dot org







FAMILY NEWS -

updated June 11, 2009



6/11/2009

The memorial service was beautiful. It was very moving to see all the distant relatives that we see all too seldom and revisit this side of our family history. I've been intending to post pictures from the memorial for a year now, but still haven't done it. However, Brian and Dan posted some wonderful pics on Photobucket many moons ago. Just checked - they're still there! Password frances.

5/26/2008

We have finally settled on a date for a memorial service: July 26. The service will be in the town of Nehawka, Nebraska at 10am. The service at the Methodist church will be followed by a brief graveside ceremony at the family plot in the nearby cemetery. Watch this page for more details.
p.s. if you're wondering why the family plot is in Nehawka, take a look at the family history (the sections about Grandpa Rough).

5/7/2008

Frances Kahn, our beloved Oma, passed away today. She was 86 years old. She died peacefully in her own home, with her sister Beth holding her hand. Beth has written up an obituary for her, which is here. I am gathering pictures for a photo collage. You can see the ones I have already by following the link further up on this page. I hope people will send me some more.

4/4/2008

It's been a long time since I have updated this page. As most people likely to be visiting this page probably know, Oma's cancer returned, 5 years after surgery. She kept it at bay for another vigorous year through 4 different types of chemotherapy. But eventually the chemo failed, and she is now in hospice care at her Sedona home. Her beloved sister Beth is caring for her as she approaches her final days. She has had many visits from family in the past year and has enjoyed every one of them, as she has always enjoyed life. She is growing weaker by the day now, but still enjoys phone calls from friends and family.

5/18/2006

Oma sent her first email today! She bought a computer while Sharon and Richard were visiting, and finally got her Internet connection put in today. Her email address is on the protected page, along with updated family contact info. Click on the padlock above. If you don't know the password, email me.

5/6-13/2006

Sharon and Richard just back from visiting Oma in Sedona. We hiked around the beautiful red rock canyons, visited magical vortexes, and swam in the Sedona Shadows pool just up the hill from her house. We visited Slide Rock Park, where everybody fell down at least once and Oma went down the long rock slide! Probably not the best idea in hindsight, but she did fine and got a round of applause when she splashed into the final pool. She has a lovely guest room with private bath and lots of space in the rest of the house for larger groups. Everybody should go visit her! It's fun!

4/6/06

Oma has closed on her new home in lovely Sedona, Arizona! Getting the elderly packrat seller moved out proved to be quite a challenge, but as of today, Oma is installed in the house surrounded by all of her worldly possessions and quite a lot of the seller's abandoned stuff.

1/29/06


Dan and Christine moved to the Reno area this month where Dan is pursuing an opportunity with a new micro-brewery!

1/29/06
Oma is doing just fine now, cancer still in complete remission after 3+years! She accompanied Dan and Christine to Nevada, but hasn't decided whether to stay or not.

1/29/06

Sharon is still married to Richard (25 years!), working at QLogic in Minneapolis. She is in recovery from playing City of Heroes, currently amusing herself by selling Richard's comic collection online and on Ebay.


1/29/06
Amber is in Redwood City, California, managing a tutoring center! Thorin living at home in Minneapolis, working at Target, working on his writing and some online projects.
1/29/06
Sandy is still teaching art in Phoenix.

1/29/06
Brian is still working at Hewlett-Packard in Corvallis.

1/29/06
Rich and family are still living in northern Germany.





















mail news items to
sharon @ kahnhome dot org