Automate the melody strings, but not the chords
This approach is far more succesful, although trickier (and more expensive) to implement. There were a surprising number of these around the turn of the century, such as the Deweylin Harp, described in the1902 Sears catalog as:
"...the wonder of the age...the greatest musical instrument that has ever been placed before the public."
The Marxophone may have been the only one of Henry Charles Marx's musical inventions that was truly playable. It's certainly the most accessible - absolutely anybody can plunk out a tune on the spring-loaded keys. Unlike the Deweylin and the fabulous Dolceola, there's nothing chromatic about this instrument - it's strictly key of C. All the melody strings are double strings, like a mandolin. Depending on how one strikes the keys, the wooden hammers may produce a tinny harpsichord sound or a mandolin-like trill. It's really fun to play.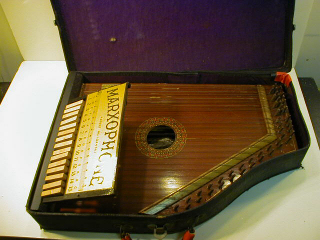 my Wooden-Key Marxophone (Marxochime)
Most of the ones I've seen online have metal keys. This one has wooden keys and wooden hammers. The hammers are mounted on metal strips, which give the hammers their spring. For more about Marxophones, check out Bob Lang's Marxophone Home Page.
Fun fact: The Doors didn't have a bass player, but they did have a Marxophone, at least for one song (that song about finding the "next whiskey bar" - can't remember the name).